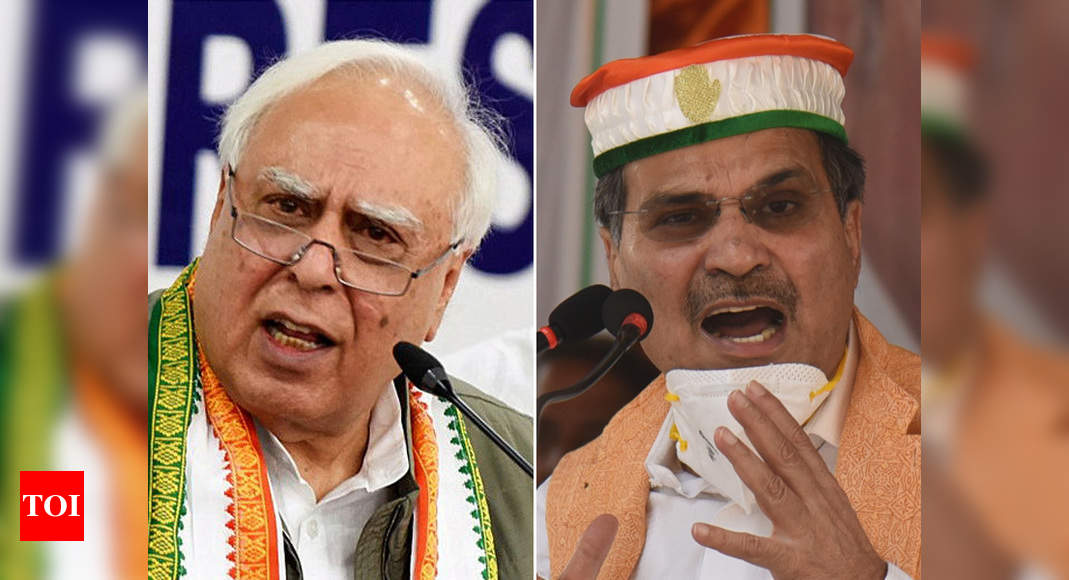 NEW DELHI: The
Bihar
assembly poll results have triggered another round of infighting in the
Congress
, bringing to the fore the deep divide within the grand old party.
After the party's dismal performance in Bihar elections and the bypolls across the country, some senior leaders have once again questioned the Congress leadership, evoking a strong reaction from the loyalists, who have maintained that "those unhappy with the party are free to leave".
Kapil Sibal
was the first to go public against the party leadership, seeking "action and introspection". Sibal stressed that the party needs thoughtful leadership which can be more articulate and take things forward.
Sibal found immediate support from Congress Rajya Sabha member Vivek Tankha who said it is time to act now, else it will be too late.
Karti Chidamabram, the Congress MP from Sivaganga in Tamil Nadu, also backed Sibal's demand for introspection.
The senior Chidambaram, on the other hand, in an interview to a Hindi daily, raised questions on party's weak organisational strength and also said that in Bihar, it contested on more seats than it should have.
Congress Lok Sabha leader Adhir Ranjan Chowdhury, who is also a Congress Working Committee member, on Wednesday took all the critics head on and said those unhappy with the party's functioning were free to leave instead of embarrassing it in public.
Slamming senior leader Kapil Sibal for "giving sermons from AC rooms", he said disgruntled members may join other parties or float their own outfits.
"Instead of giving sermons sitting in AC rooms, he should work on the ground. Lecturing others without doing anything won't help. Only calling for introspection without doing anything on our own is of no use," Adhir Ranjan said in a scathing attack on Kapil Sibal.
"He seems to be very concerned about the Congress and its need for introspection. Earlier also he had spoken about it in public. But he was not seen campaigning for the party in the elections in Bihar or other states that went to polls last year," he added.
Before Adhir Ranjan, senior leaders Ashok Gehlot and Salman Khurshid also slammed Kapil Sibal for going public with his views.
Salman Khurshid called the dissenters "doubting Thomases" who had the habit of biting their nails every time the party underperformed. Rajasthan chief minister Ashok Gehlot questioned Sibal's move to go to the media and said he had hurt the sentiments of party workers.
Earlier, another senior leader from Bihar, Tariq Anwar, had blamed the delay in finalising alliance as one of the reasons for the party's below-par performance in the state. Anwar, however, was careful not to question the leadership on the issue.
In August this year, 23 senior party leaders had written a letter to interim Congress chief Sonia Gandhi, seeking a complete overhaul of the party and internal elections – from the block to the Congress Working Committee level.
Sibal and Tankha were part of the group which came under major attack from the loyalists.
Several of the dissenters were eventually eased out of the important positions that they held within the party.
(With inputs from agencies)