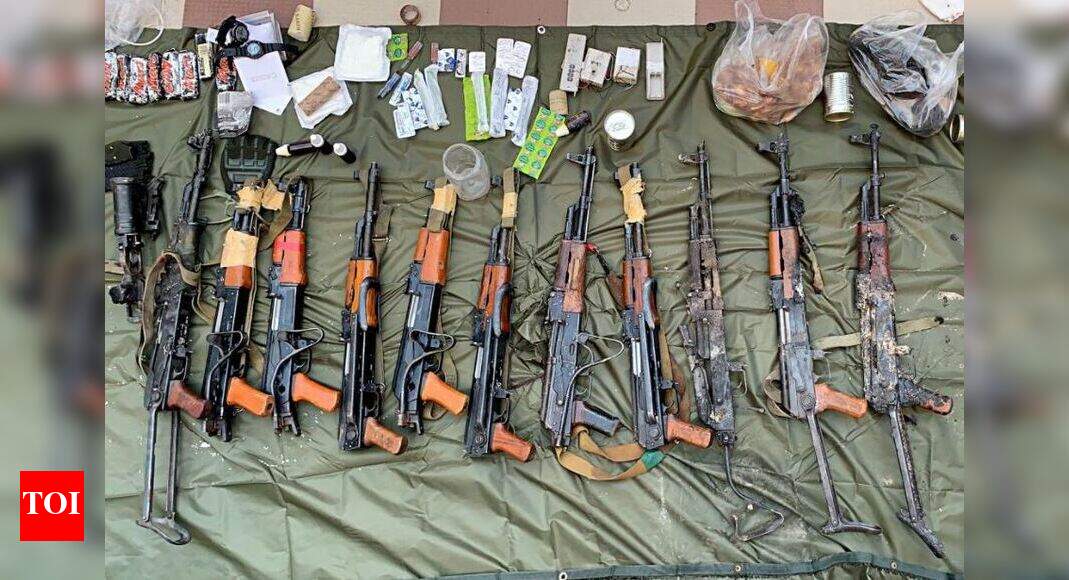 NEW DELHI: A clear and irrefutable link establishing Pakistani origins of the four terrorists killed on Thursday in
Nagrota
has emerged, leading PM Narendra Modi to directly name "Pakistan-based terrorist organisation Jaish-e-Mohammad" for efforts to wreak major havoc and destruction to "target grassroots level democratic exercise in Jammu and Kashmir".
Pointing to the huge cache of arms and ammunition seized from the slain terrorists – 11 AK-47 rifles, 24 AK magazines, three pistols, six magazines, 29 grenades, five rifle grenades, detonators, 7.5 kg of RDX and 20 metres of IED wire – the PM on Friday, in a rare intervention, reviewed the situation in J&K in the light of what is seen as a Pakistan-inspired plot to create mayhem.
The review was attended by home minister Amit Shah, NSA Ajit Doval, the foreign secretary as well as top officials of the intelligence establishment.
After the review, Prime Minister Narendra Modi took to social media to highlight the efforts by Pakistan-based terror outfits to target grassroots level democracy in J&K and commend the security forces for thwarting these plans. His tweets were seen as aimed at Pakistan's ISI, which uses jihadi outfits like Jaish and Lashkar to hurt India.
"Our security forces have once again displayed utmost bravery and professionalism. Thanks to their alertness, they have defeated a nefarious plot to target grassroots-level democratic exercise in Jammu & Kashmir," Modi tweeted, indicating that Pakistan-based Jaish was out to disrupt district development council polls and destablise the situation in J&K with what police sources described as a "big attack coinciding with the anniversary of 26/11".
Some key recoveries made from the dead terrorists were cited by intelligence sources as "unimpeachable proof of Pakistani origins who with a veritable armoury at their disposal could have caused havoc in Jammu & Kashmir". These included a digital mobile radio manufactured by a Pakistani firm named Micro Electronics.