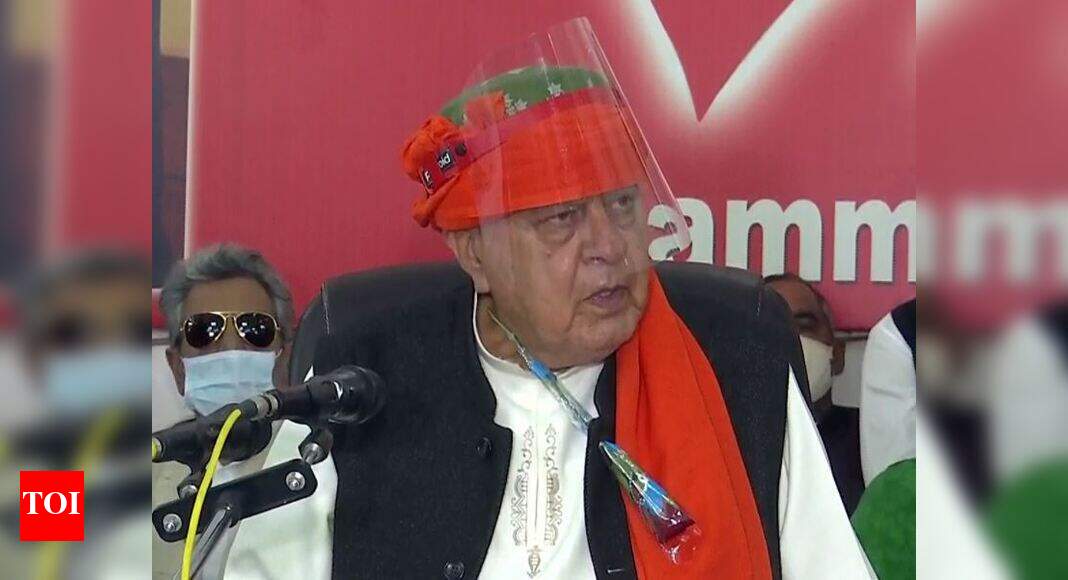 SRINAGAR:
Peoples Alliance for Gupkar Declaration
(PAGD) chairman Farooq Abdullah on Saturday filed a complaint with Jammu & Kashmir state election commissioner that the candidates fielded by the seven-party conglomerate for the district development council (DDC) polls are not being allowed to campaign.
Abdullah's move came as major political parties blamed lack of a level-playing field for the elections, accusing the administration of locking up their candidates at several places and not allowing them to campaign.
PDP president Mehbooba Mufti too accused the Centre of "sabotaging" the participation of political parties other than the BJP in the DDC polls by not allowing them to campaign freely.
"GOI sabotaging participation of non-BJP parties in DDC polls. PDP's Bashir Ahmed despite having adequate security has been detained at Pahalgam on the pretext of security. Today is the last day for filing nominations & have spoken to DC Anantnag for his release @manojsinha," the PDP chief tweeted.
M Yousuf Tarigami of the CPM, one of the constituents of PAGD, wrote to LG Manoj Sinha on Friday, alleging that candidates were being kept away from their constituencies and bundled in "cluster accommodations."
"The issue is already in my notice and necessary instructions stand conveyed to the concerned. I am sure that the coming elections will go a long way in strengthening the panchayati raj institutions," Sinha said in his reply.
In his letter to SEC KK Sharma, Abdullah said
PAGD candidates
are "whisked away to secure locations in the name of security and confined there."
"They are not allowed to canvas, they are completely out of touch with those from whom they are supposed to seek votes," the letter said.
"These challenges are not new but have been painfully persisting for the last three decades. But the government had structures in place which ensured security for all contestants irrespective of the ideology they espoused or the parties they represented. Our parties have been in power in the past and have had the opportunity to head and run the government. We are aware of the challenges posed in the realm of security in a place beset by violence," it added.
Police said the candidates were being provided collective security and put up in secure areas as providing security to every candidate was difficult. Inspector general of police, Kashmir, Vijay Kumar said the candidates are provided a double escort and the security forces guard an area where they want to visit and campaign after leaving their secure accommodations.
Meanwhile, lashing out at NC and PDP, Union minister of state for finance and election in charge Anurag Thakur on Saturday said it is unfortunate that political parties are delivering statements in support of Pakistan and China. He was addressing a series of meetings attended by senior BJP leaders at the party headquarter in Jammu.
The BJP has refuted the PAGD charges. In a statement, it said the allegations are a blatant lie and deliberate misrepresentation of facts. It accused the alliance of preparing grounds to justify their impending defeat in the polls.