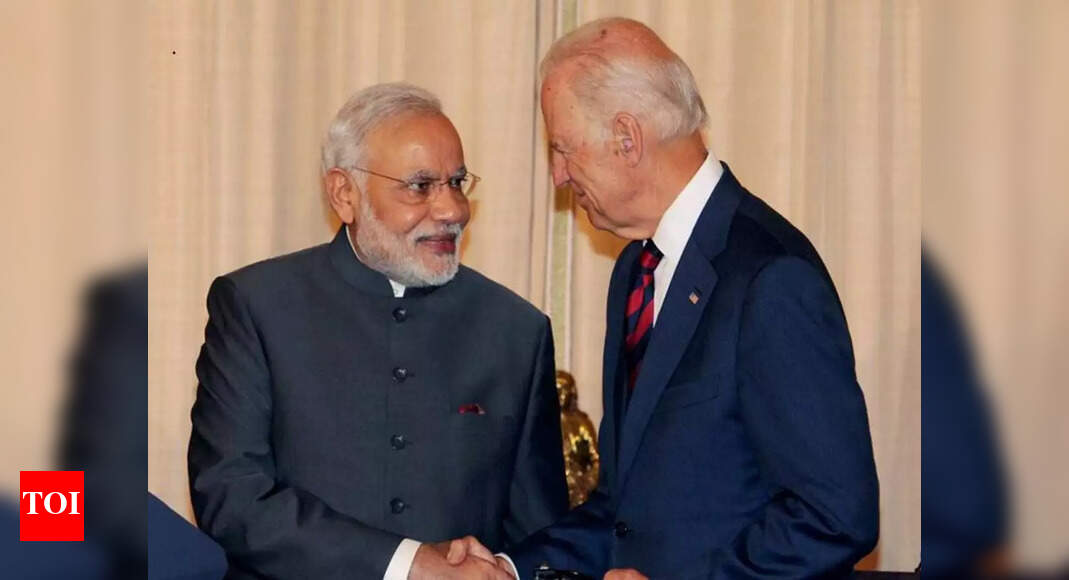 WASHINGTON: Demonstrating that there will be a continuity in good US-India relations beyond individuals or administrations, US President-elect
Joe Biden
and India's Prime Minister Narendra Modi spoke over phone on Tuesday and pledged to strengthen and expand ties between the two countries.
The call between the two leaders, who have known each other for several years, set to rest speculation that New Delhi had allied itself too closely with outgoing President
Donald Trump
. Indian officials noted that as vice-president, Biden hosted an official lunch for Modi and presided over his address to the joint session of Congress during the Indian prime minister's visits in 2014 and 2016, suggesting they expected no hiccups in engaging with the new administration.
Spoke to US President-elect @JoeBiden on phone to congratulate him. We reiterated our firm commitment to the Indo-U… https://t.co/Pp1m2sq77K

— Narendra Modi (@narendramodi) 1605636480000
The exchanges also implicitly confirmed New Delhi's recognition, first conveyed in a congratulatory tweet from Modi, that Biden is the winner in an election result still being disputed by Trump.
"The president-elect thanked the prime minister for his congratulations and expressed his desire to strengthen and expand the US-India strategic partnership alongside the first vice president of South Asian descent," the Biden transition team said in a read-out of the call, revealing Biden invoking Kamala Harris in the context of bettering ties.
Modi too referred to Kamala Harris according to a statement from India's foreign ministry, extending his "best wishes to the daughter of an Indian immigrant whose election to the second highest public office in the United States has been cheered in India."
Although Harris is not expected to play a major role in foreign relations, there has been some disquiet in hypernationalist circles in India that she will adopt a hard line on issues such as civil liberties and human rights given her reservations on the Citizenship Amendment Act and revocation of Article 370. "We have to remind Kashmiris that they are not alone in the world. We are keeping track of the situation," Harris had said on one interview, irking Indians sensitive to criticism on the issue.
But reflecting a realism and urgency that will put other issues on the top, the Biden statement said president-elect "looks forward to working closely with the prime minister on shared global challenges, including containing Covid-19 and defending against future health crises, tackling the threat of climate change, launching the global economic recovery, strengthening democracy at home and abroad, and maintaining a secure and prosperous Indo-Pacific region."
Some critics parsed the statement to highlight Biden's reference to strengthening democracy (the Indian readout did not mention this), while others noted that any implicit criticism on this score now applies as much to the US following a ragged election that is testing its institutional heft. Some analysts also saw a potential dilution in the incoming administration's commitment to India vis-a-vis China.
"India's importance in US strategy appears set to erode. He has signaled the likely demise of the 'free and open Indo-Pacific' (FOIP) strategy and a resumption of cooperation with China in areas where interests converge," noted Brahma Chellaney, adding in a separate commentary that "flip-flops are to Biden what egomania is to Trump."