MUMBAI: Due to a rare post-Covid complication, a 10-year-old boy from Mahad developed a massive gangrene in his small intestine and ultimately needed a transplant. Om Ghule received a donation of 200-cm of small intestine from his father, Santosh, on November 4, and healed well enough to have his first dal-chawal meal in three months on Saturday.
Doctors of Jupiter Hospital (Thane and Pune) where the child was treated, claimed Om is the world's first paediatric patient to undergo a living donor
small bowel transplant
after a Covid-19 infection. One case was reported in Italy, but with fatal outcome, said infectious diseases specialist Dr Rajiv Soman, who is a part of the team treating Om.
Om's experience underlines why the SARS-CoV-2-causing Covid-19 is a dangerous and mischievous virus. He had no symptoms of Covid-19, but a month later developed multisystem inflammatory syndrome that doctors now recognise as a post-Covid marker among children under 15 years of age.
"Thrombosis and bowel perforation is well known in severe Covid-19, but massive bowel gangrene is very rare," said Dr Soman. The child had to travel to three cities for help, undergo four surgeries and a transplant in a span of three months.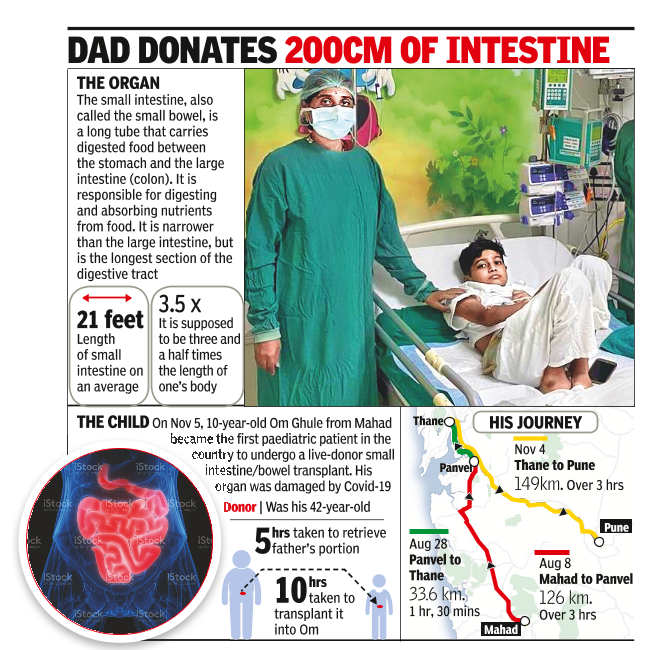 When he developed acute abdominal pain at home in Mahad, no one had a clue that a post-Covid reaction — clotting –was the cause. On August 8, his parents rushed him to a private hospital in Panvel where doctors found the clot and a massive gangrene (localized death and decomposition of tissues) in his small intestine.
They operated on him a second time to remove the dead intestinal tissues. He was transferred from Panvel to Jupiter Hospital, Thane, on August 28 as it has a transplant team.
"Two small portions of his small intestine were left behind, but we had to operate on him a third time to remove them as well due to infection," said transplant surgeon Gaurav Chaubal. A fourth operation was also done to clear up further infection. For almost two months, Om was 'fed' through intravenously (parental nutrition) from special ports fitted in his neck. Om was listed for a cadaveric small intestinal transplant and was on the waiting list for almost three months. "During this time, Om would long to eat and also started developing complications related to parental nutrition. His liver function was getting affected," added Dr Chaubal.
Moreover, the Thane hospital couldn't get a licence to perform small intestinal transplant due to Covid-related delays. On November 4, instead of waiting longer, the child was transferred to Jupiter Hospital, Pune, that has a licence for the transplant. Living donors can safely donate 40% of their intestine as the remaining intestine can fulfil normal digestive and absorptive functions.
The child's father, Santosh, volunteered to donate a part of his intestine and, on November 5, a team of surgeons led by Chaubal performed the surgery. While the retrieval operation took five hours, the transplant took another 10 hours.
Doctors said Om would be able to lead a normal life but has to take immunosuppressant drugs. He is scheduled to get discharged after seven days.